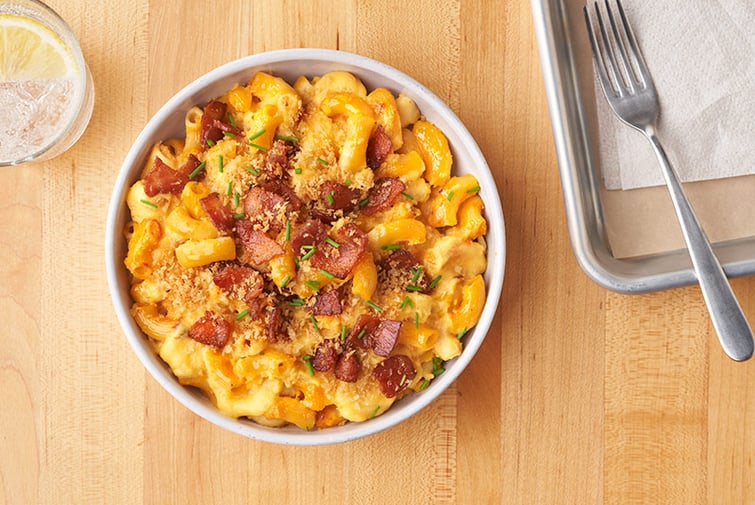 To draw consumers, operators may want to incorporate some of the anticipated 2023 foodservice trends — ranging from global menu items to new tech tools.
At the start of 2022, the majority of consumers — 75% — said they were looking forward to seeing new food and beverage trends in the coming year.
Many are eagerly anticipating the new dishes, ordering formats and other changes restaurants will introduce in 2023. Tapping into menu, technology and other consumer trends can help operators offer enjoyable, exciting on- and off-premise experiences.
To entice more customers and increase business in the coming year, consider incorporating the following trends.
An Emphasis on Sustainability
Food waste is consumers' No. 1 concern, according to Datassential Trendologist Mike Kostyo, followed by packaging.
"If they gave restaurants a pass during the pandemic because everybody was trying to survive, we're not seeing that anymore," Kostyo says. "They want to see conspicuous sustainability. We've seen a return to the conversation around what upcycling means and how brands can use ingredients that might otherwise be wasted in a way that gives them new life."
The Specialty Food Association's Trendspotter Panel ranked environmentally friendly foods, such as items that feature upcycled ingredients, as one of the top two culinary trends for the coming year. Upcycled foods use ingredients that otherwise would have been wasted, such as tea made from the leaves of an avocado tree or chips made from the grains leftover from beer brewing.
During the past decade, more than 45% of consumers have factored animal welfare or whether food was produced in an environmentally sustainable way into their purchasing decisions.
Operators can reassure customers their practices align with those beliefs by highlighting the use of responsibly sourced ingredients from providers like Clemens Food Group, which requires all its animal caretakers to complete animal welfare training each year and also obtain National Pork Board animal well-being and environmental stewardship-related certification.
Labor practices — a frequent corporate social responsibility initiative component — could also be a focus, following the increase this year in union and employee activity around scheduling, pay and other considerations.
Further Tech Integration
While some restaurants utilize technology in operations more than others, 75% say they'll most likely add new tech systems this year.
Cutting-edge capabilities like artificial intelligence — in use at restaurants such as South Indian eatery Surya Tiffins in Naperville, Illinois, run by Nala Robotics, which created the automated robots that prepare its orders — may still be a few years away from ubiquitous implementation.
Other convenience-related changes, though, such as remote order-taking, are catching on, according to Kostyo, possibly due in part to labor shortages.
"We already see a lot of companies farming out some of their ordering processes at the drive-thru or a kiosk to people who aren't at that physical restaurant," he says. "In five to six years, you're going to see some of these brands starting to use voice AI engines — you're not actually talking to a human, you're talking to an AI robot."
Customers may not mind: Four out of five who prefer to stay in their car say they'd use an automated voice system that was built into the drive-thru process.
Better-For-You Options
In past years, menu planning may have centered on a specific health trend, such as no-calorie, low-fat items, farm-to-table and organic eating, or functional foods that provide immune system and other benefits. Now, with so many definitions of what constitutes healthy eating, focusing menu planning efforts on one mindset can be challenging, Kostyo says.
"Each individual consumer can decide what healthy means to them," he says. "We see a lot more generations, and cohorts within generations, getting into very particular diets; a great example of that is younger male consumers who are getting into fasting and intermittent fasting. You have to support a wide variety of health needs."
In 2023, at least some restaurants will likely serve plant-based items, given the amount that's appeared on menus has grown by more than 60% in the past four years; Datassential projects plant-based dishes will be offered on more than 40% of menus within the next two.
The National Restaurant Association's 2023 culinary forecast indicates operators will also increasingly use alternative sweeteners like maple or coconut sugar — and may cater to consumers' other health interests by offering dairy-free breakfast options, such as a vegan tofu scramble; sandwich selections made with flatbread or lettuce wraps; and dinner fare like low-carb cauliflower-based pizza or rice.
A Serving of 'Newstalgia'
A number of consumers sought familiarity during the uncertainty the pandemic presented; by fall 2020, one poll found 2 in 3 Americans were turning to favorite comfort foods from their childhood, including french fries, mac and cheese, and spaghetti and meatballs.
All that interest in nostalgic eats helped fuel consumer cravings for menu items that featured well-known, potentially iconic ingredients. In 2023, look for more fresh takes on classic favorites, Kostyo says — an approach operators may want to consider if a sizable portion of their customer base is young.
"Nearly 80% of millennials say they would purchase a product just because of something they remember growing up," he says. "If that's a generational group that's important to you, speaking to the brands and foods they grew up with is a real path to success."
A Different Cut of Meat
Less-expensive cuts of meat, such as chicken thighs, beef chuck and pork shoulder are a top trend listed for dinner menus, according to the National Restaurant Association's 2023 trends forecast.
These cheaper cuts of meat allow operators to offset higher costs of goods while offering unique menu items to the customer, such as pork steaks instead of traditional steak or pork shoulder.
Foodservice Equipment & Supplies Magazine identified brisket as the top-trending cheaper cut on menus but also highlighted pork rib, pork shoulder and pork butt. Operators should use methods like braising and stewing to ensure the meat is tender, along with marinating, slow cooking or roasting on a grill.
Global Cuisine
A number of the items chefs and members of the American Culinary Federation identified as key emerging trends to watch in 2023 touch on international tastes — such as amazake, a Japanese drink made from fermented rice; sandwiches like choripán, served in Argentina; and Balkan foods from Croatia, Bulgaria and Turkey.
The industry leaders also anticipate Southeast Asian fare, such as Vietnamese and Singaporean cuisine, will be one of next year's top overall menu trends. Some of the elements that are commonly found in Asian cuisine, such as pork, could drive menu planning efforts in the future as a result, Kostyo says.
"When you ask Gen Z, 'What do you like?' you see a wide variety of Asian foods and ingredients, particularly Chinese, Korean and Japanese ingredients," he says. "You have a generation of consumers who is coming up loving a cuisine that uses a lot of pork — you should be ready for that."
To find out more about the latest industry trends and other news, sign up to receive the Clemens Corner newsletter.