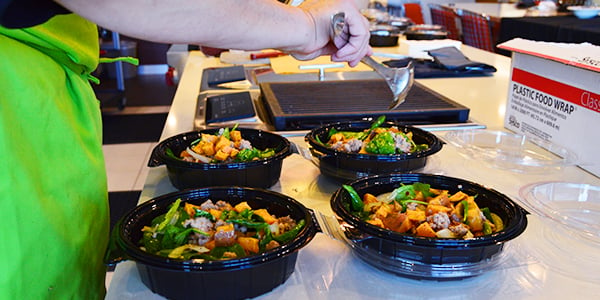 Most states have begun to allow restaurants to offer outdoor and dining room service. But with COVID positivity rates rising in many areas, 58% of consumers remain very concerned about its resurgence—and public sentiment about dining out is mixed. In mid-July, more than half (52%) of consumers told Datassential they were avoiding eating out; another 28% said they're dining at restaurants but feel nervous doing so.

As a result, takeout and delivery will likely continue to be a crucial component of restaurant operations for some time. (At the beginning of pandemic-related closures

in March, 65% of operators

reported they were offering takeout and delivery to offset anticipated dine-in losses.

By late July

, 68% had added or expanded delivery—and expect to retain that level of service even after the crisis recedes. Meanwhile, 63% had added—and will continue offering—curbside pickup.)


Although to-go and delivery haven't fully offset dine-in losses for the majority of restaurants, this business does help keep money coming in. That has prompted many establishments that didn't have a formal takeout or delivery program before the pandemic to implement one.

Others have tweaked their processes to make it easier than ever to receive orders through methods such as curbside pickup—a service customers may expect to see even after COVID is no longer an issue, says Amanda Torgerson, a manager on Datassential's Professional Solutions team. Pre-pandemic, curbside pickup was primarily offered by suburban chain restaurants, she explains. "But people want to stay in their cars; they view it as a safe bubble. That convenience we gained isn't necessarily going to go away."

In some instances, multiple restaurants are vying for an area's takeout and delivery business. To stay top-of-mind with customers, eateries need to take a proactive, novel approach to menu planning, marketing and other operational elements. The following three steps may help encourage customers to place to-go and delivery orders from your establishment.

Upsell Eating as a Special Event

Splurging—particularly to commemorate special occasions—has also been a trend during the pandemic.

Brooklyn Chop House, a Manhattan-based steakhouse known for indulgent items spanning all proteins, found its customers were still looking for premium dining experiences while sheltering in place. They just needed to be able to enjoy them at home. "We delivered a lot of celebratory dinners with high check averages because obviously, people were still having graduations, anniversaries and birthdays," says Director of Operations Stratis Morfogen. "But they couldn't go to a local restaurant."

To keep them ordering favorites such as bacon cheeseburger dumplings, crispy steamed pork dumplings, and glazed spare ribs, the restaurant regularly ran limited time offers and holiday-themed promotions that customers could take advantage of from the comfort and safety of home.

Its Mother's Day promotion, for example, helped propel delivery sales for that week beyond its average pre-pandemic levels. (The special included the restaurant's inventive take on the classic surf and turf. Dubbed "L.S.D.," the offering pairs a three-pound, dry-aged porterhouse steak with a salt-and-pepper lobster, seven-pound Peking duck and other trimmings.) "Going to a traditional steakhouse, you'd get a lobster tail or piece of broiled fish; no one ever put those three things together," Morfogen explains. "That was big."

For many birthdays and anniversaries that occurred during the pandemic, "you couldn't go out to dinner and celebrate, so people were making nice big meals at home," he continues. Coming up with a unique offering—and making it available for takeout and delivery—helped Brooklyn Chop House attract business throughout the spring. A change in seasons and fewer COVID-related restrictions haven't slowed them down either.

"Now that we've opened our outdoor terrace, I assumed delivery and takeout orders [would drop] substantially," Morfogen adds, "but they've maintained the same numbers."

Overdeliver on Charm

In recent months, many restaurants have been offering a reduced version of their menu due to staffing or other challenges. Consumers have generally been willing to accept the change, Torgerson says—provided operators are strategic about what they remove.

"There's an understanding of how much pressure the industry overall is facing," she says. "When we asked why [consumers] order takeout or delivery, the No. 1 reason was craving. Identifying those really craveable items and making sure they stay at the core of menus is really critical for operators."

S.K.Y. restaurant in Chicago quickly decided to start offering takeout and delivery when Illinois announced in mid-March that on-premises dining would be put on hold for two weeks—a time period the state eventually extended.

Given S.K.Y.'s menu size, providing all the eatery's dishes to-go and for delivery was somewhat challenging at first, says Chef/Owner Stephen Gillanders. The staff had to adjust to getting all meal components into a bag simultaneously, instead of serving them in waves. Some portions looked smaller in to-go packaging, and while certain menu items—such as the robust pork chop katsu served with buttered cabbage, shio kombu and a chili glaze—traveled well, others were tougher to transport.

"Items that are heartier and more resilient proved to be much better delivery items," Gillanders says. "They stayed hotter and didn't get soggy or discolor. The really delicate menu items—ice creams, crudos—lost too much integrity on the journey and were ultimately removed as options."

Within a few weeks, the restaurant pivoted to offer a "S.K.Y. At Home" selection: For $39, two people could choose an appetizer, salad and entrée from a list. Additional a la carte desserts and bottles of wine also were available. The initiative, Gillanders says, made placing and fulfilling orders less complicated.

Once the system was up and running, the restaurant added other items to the menu, such as focaccia, which is sent with a signed note from the pastry chef who baked it—the type of personal touch customers would receive when dining at the restaurant, Gillanders explains. "We changed the portion sizes and obviously the presentations," he says, but the recipes and composures continue to mimic the regular menu to give diners an experience similar to what they'd enjoy on site. "We also offered daily specials to keep things interesting. That way, regulars were able to have some new items, and it kept them interested in ordering."

According to Torgerson, the pandemic helped fuel the meal bundle concept—particularly for families.

"Meals for families have become a staple on menus," she says. "They're really easy for operators to execute. It's the same food they're serving for dine-in or takeout; they just sell it at a larger volume and a higher ticket price. We'll definitely see that continue. In the regular takeout environment, ordering a meal for the family every week gets encoded in our rituals."

Boost Dish Appeal

Although some operators put recipe and ingredients innovation on the back burner during the pandemic, a creativity-focused approach to menu planning could be a key part of keeping takeout and delivery customers engaged in the coming months.

"Consumers are going to get fatigued with that standard menu they may have been experiencing," Torgerson says. "We've seen most operators saying innovation is going to be just as—if not more—important coming out of COVID-19."

Decadence alone might not draw people in, however. People who indulged in their favorite dishes during the spring pandemic months could be tiring of those foods and flavors. In May, Torgerson says, consumers reported being maxed out on staples such as mac and cheese, grilled cheese, Italian pastas, and sandwiches. Diners indicated they were most excited about having Mexican, Asian, sushi and seafood fare.

Operators may want to start thinking about ways they can package and provide those items. Because state, local or federal regulations could at any point further restrict (or negate) dine-in service in the future, restaurants can't necessarily guarantee they'll be able to rely on it for revenue.

If social distancing is still recommended in the coming months, colder weather in some areas could make outdoor dining a less viable option. To remain in business, finding a way to get the dishes you serve into customers' hands at home is vital.

"Until we have a vaccine, we don't have a ton of control as individuals as to what's going to happen with the pandemic," Torgerson says. "My hope is we can all eat out again and not have to worry about the experience. But until we get there, takeout and delivery are pretty critical because they give you options."

Curious about pork's ability to draw diners to a restaurant? Try a free sample of Hatfield®​ Premium Reserve Pork®​​​ to spark fresh ideas for incorporating pork into your menu.