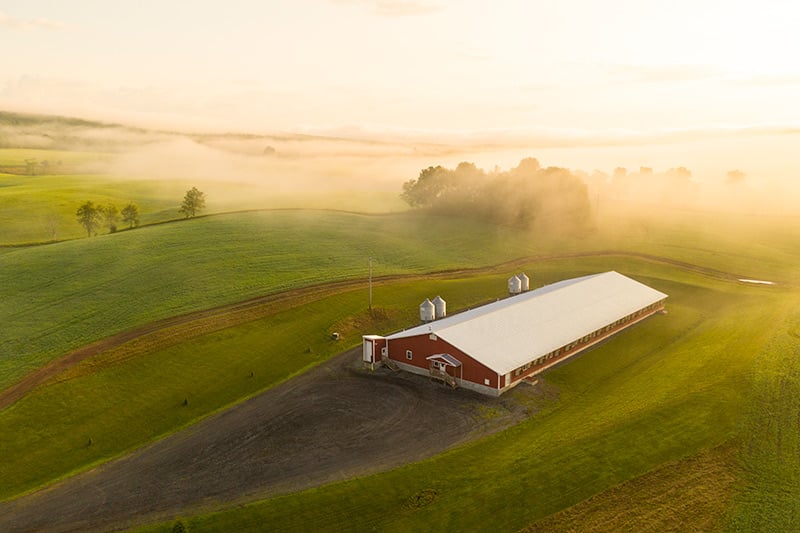 In an age of supply chain woes and product availability issues, having a vertically coordinated supply chain sets Clemens Food Group apart.
By taking ownership of every process within our business, we ensure consistency and quality from feed and production to logistics and delivery.
Read on to discover how our vertically coordinated supply chain works and the benefits it provides to our customers.
What a "Vertically Coordinated" Supply Chain Means
Clemens Food Group is an American family-owned business with more than 125 years of history. Over time, we have developed a vertically coordinated supply chain model, which means that we have a hand in every step of the supply chain process, including feed milling, farming, logistics, transportation, processing, packing and delivery to customers.
While some of our competitors may also position their supply chain as vertically coordinated or integrated, an important distinction is that our model is developed to work together.
"When we say vertically coordinated, we mean that our decisions for each step of the supply chain exist for the sole purpose of supporting the next step in the supply chain," explained Chris Carey, senior vice president, sales and marketing at Clemens Food Group. "Where other companies may have the farms and the plants, they, at times, can operate as individual businesses that just happen to be a part of the same company. What we're doing isn't to make as much money as possible; instead, it's to do what's best for Clemens Food Group in total and for our customers. The supply chain is designed so that we can ensure that we meet our customer's needs."
Here are three areas in particular that benefit from our vertically coordinated supply chain.
Control and Consistency
Having ownership and oversight throughout the supply chain provides a high level of quality control and consistency on a number of levels. Take feed, for example. What animals are fed ultimately impacts the quality of the meat. While some farms may try to save money on feed, that can create quality issues. Since we own roughly 40% of our hog production, and 60% are long-term family producer groups that are very intertwined with our business, we can ensure that they are aligned with our animal raising practices and what our vision is for our products.
"In regards to the processing of the animals and the specifications on the products, we're able to ensure a consistent product, and we're not relying on others," said Carey. "In our business, the more variables you can't control, the more opportunity you have for something to go wrong. We can offer a consistent product that matches our customers' expectations on a continuous basis, providing stability."
That stability has never been more important.
"When COVID happened and a lot of plants across the country shut down, we didn't have that risk of relying on others," noted Carey. "Because we control the feeds of the raw material to the processing and logistics, we were able to give our customers confidence that we're a one-stop shop. We're able to better align the raw materials with what customer expectations are because we have control over the supply chain."
Reputation Management
According to Carey, a vertically coordinated supply chain also provides reputational safety for our customers, which is especially important for large organizations.
"Whether it's avoiding product shortages or maintaining animal welfare standards, having a limited group of products and coordination throughout the supply chain ensures that there are less opportunities for incidents of bad actors and other issues," he said.
Controlling all aspects of the supply chain also allows us to make sure that our products uphold food safety standards because we're not relying on others at different points in the process. We can ensure directly that our products are of the highest standards, which again helps a brand's reputation management that partners with us as their pork supplier.
Meeting the Needs of Different Customer Bases
One of the key benefits of having ownership over the supply chain is being able to meet the needs of different customer bases. For example, our Hatfield® line includes "Prop 12" and "Question 3" compliant pork products across our portfolio of Bacon, marinated and Fresh Pork items. And, our Farm Promise® line provides No Antibiotics Ever (NAE) pork that's crate-free during gestation and fed a vegetarian diet (except for milk).
"Because we have a tightly knit, coordinated system, we have the ability to do things quickly, at scale, and efficiently that our customers are asking for," said Carey.
A perfect example of this is highlighted by Bon Appétit Management Co.'s Chief Strategy and Brand Officer Maisie Ganzler. When Ganzler was searching for a pork supplier with a higher standard of animal care, she decided to partner with Clemens.
"We surveyed every pork supplier we could find in the United States and eventually found the Clemens Food Group, who was confining sows to gestation crates for impregnation—so, not until confirmation of pregnancy, just for the artificial insemination period. A sow's gestation period is three months, three weeks and three days. For the [other pork supplier's] so-called group-housed pork, the sows were crated for about a month of that on average. With the Clemens product, it was for about a week for the insemination. So, not perfect, not gestation crate-free, but much, much less time in crates," Ganzler said.
"Then, when Prop 12 came on the ballot in California, I saw the writing on the wall that someone was going to have to develop a truly gestation crate-free product and restarted talks with a number of potential suppliers about creating such a product. Once again, Clemens stepped up and created that, and that is now what we are currently rolling out across the United States."
Specifically, in 2019, Bon Appétit Management Co. required full elimination of gestation crates nationwide by the end of 2021. Despite the difficulties of the pandemic and shifting business needs, our pork supply chain model was able to adapt to these new requirements. "Clemens did extensive testing of different housing configurations to discover sows' preferences and brought in world-renowned animal welfare experts to analyze the results," Ganzler stated in a 2021 report by World Animal Protection. "Converting an operation isn't as easy as 'read the law and do what it says.' It takes a tremendous amount of work."
We are dedicated to matching our customers' needs and preferences, and partnering with them to accomplish their goals quickly and efficiently. From the specialty programs to menu ideas, Clemens Food Group is the expert on all things pork.
If you are interested in learning more about our vertically coordinated supply chain or our custom solutions for foodservice, contact us.