With so much creative menu play around shareables, snacks and small plates, it's time to take a closer look at the center of the plate.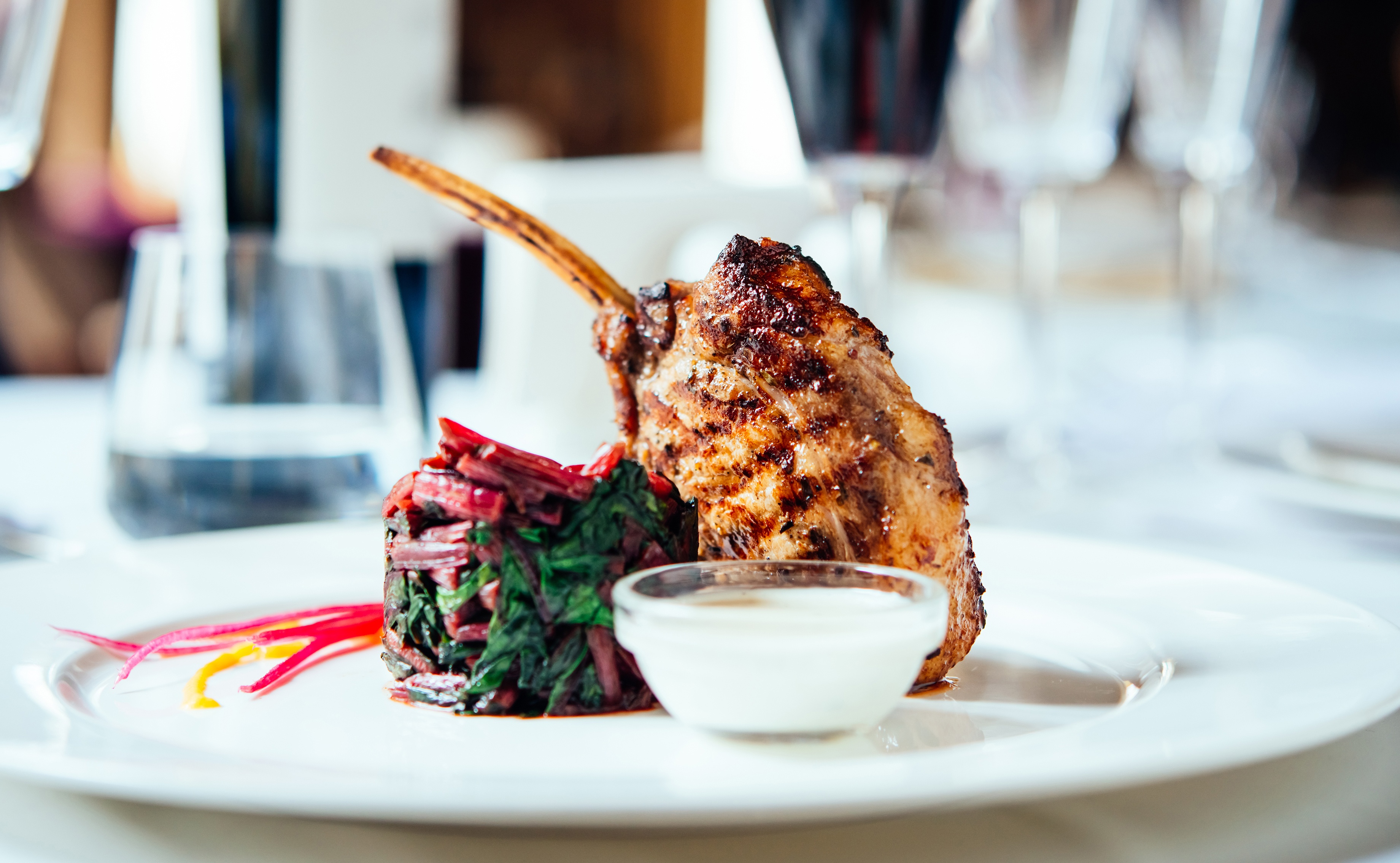 How is shifting consumer demand impacting the evolution of what an entrée looks like? What's the new menu strategy around entrées that appeals to today's consumers?
When defining modern entrées, we're talking about a new plate composition, where protein is still the star, but quality has replaced quantity and sides have become co-stars. The value proposition has shifted; now modern flavor play and pristine quality hold premium positioning. So, although protein size today might be a bit smaller than gigantic sizes of the past, the narrative around sourcing becomes key in menu development. A modern entrée sees huge attention to flavor detail on the plate—nothing is an afterthought or filler. At Butcher and Banker, a modern steakhouse in New York, the Kan-Kan Pork sees loin chops served with cracklings and pork belly, along with caramelized Catskill apples and an apple cider reduction. The Citrus Steak served as a limited-time offering at Rock Bottom Restaurant & Brewery, based in Chattanooga, Tenn., features a 5-ounce citrus-marinated steak, char-grilled and topped with whiskey and citrus herb sauces, served with char-grilled seasonal vegetables and cilantro-lime rice.
Although the protein portion is less, the value remains intact because of the attention to flavor detail. "The size of the protein in a modern entrée tends to be smaller, fitting into a plate composition that reflects how diners want to eat today," says Jen Moyer Murphy, corporate executive chef with Clemens Food Group, a supplier of premium pork products based in Hatfield, Pa. "To maintain an entrée's value proposition, that smaller piece of protein should convey pristine quality, along with perfect execution.
With a more mindful construction—where every element on the plate leads with intriguing flavor and texture—it still delivers on the promise of an entrée. Protein is still the star of the plate, but flavor-forward vegetables, grains and pulses become the co-stars. Firebirds Wood Fired Grill, based in Charlotte, N.C., offers an in-market example with its Lemon-Basil Grilled Salmon, served with a lemon-basil vinaigrette and a salad of organic red quinoa, pearl barley, spring peas, toasted pecans, grilled corn and goat cheese. The dish exemplifies the modern approach, leading with protein while making sure everything on the plate offers value.
With diners caring more about the quality of protein and the combination of flavors on the plate than they do about portion size, menu language has become all-important in conveying value. "Educate your waitstaff on how to describe the entrée, focusing on the quality of the protein," Moyer Murphy says. "Have them talk about sourcing, telling the story behind the product." She also emphasizes the importance of menu language in relaying culinary technique. "Give it that steakhouse appeal with terms like 'wood-grilled' or 'oak-fired,' for instance," says Moyer Murphy. Seasons 52, based in Orlando, Fla., does just that in its popular Wood-Grilled Pork Tenderloin with roasted vegetables, sweet potato mash and zesty jus.
With consumer demand driving so many trends today—smaller portions, premium quality, creative flavor combinations—it makes sense for operators to approach entrée development with those three things in mind.
Lead with Flavor
We tapped Moyer Murphy to share her easy go-tos on developing delicious flavors in pork-centric entrées. These convey a modern sensibility while delivering on the promise of a center-of-the-plate experience.
The Rub: combine turmeric, cumin, cardamom, cinnamon and sweet paprika with olive oil and massage into the pork sirloin; roast, then finish with a squeeze of lemon.
Flavor Boosters: Plate an oven-roasted pork tenderloin over:
balsamic syrup
horseradish sauce
mint pesto
pico de gallo
harissa yogurt sauce
roasted tomato chimichurri