Plant-Forward thinking:
How to Strike a Balance Between Plant-Based and Animal Proteins in Your Operation
It's been more than 16 years since the American Dialect Society deemed "flexitarian" ("a vegetarian who occasionally eats meat") the most "useful" word of the year. Shifting plant-based products to (instead of removing non-plant foods from) the center of the plate—known within the foodservice industry as plant-forward dining—is now part of a much larger conversation about global sustainability. But the overabundance of terminology is also creating confusion for operators—and for the consumers they serve.

This white paper will help foodservice operators understand the plant-forward movement and tailor their offerings to compete meaningfully for that business. We will explore the emergence and popularity of plant-forward dining, why consumers find it attractive, what's motivating plant-forward purchasing decisions, and how animal protein should play a role. We will then dig into important vocabulary surrounding the plant-forward trend to clarify definitions around common buzzwords. We'll also share data-backed strategies for operators to best adapt existing dishes to the plant-forward trend or successfully introduce new dishes—and provide a roadmap for clearly communicating and marketing these offerings to consumers, including carnivores. Finally, we'll highlight some of the creative ways operators have reinvented their offerings to elevate plant products without eliminating protein- and flavor-rich meat.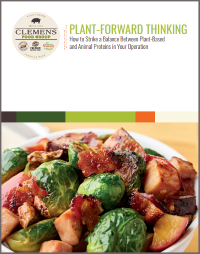 Read the
Full White Paper